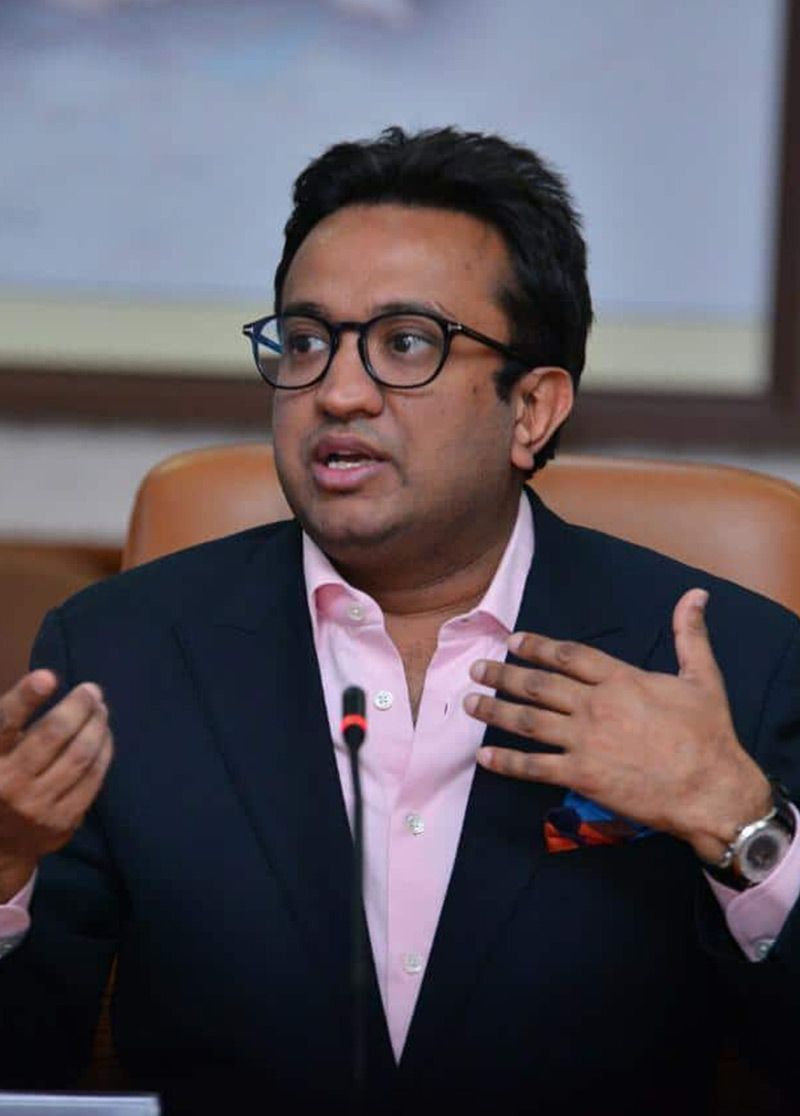 Decorations and Honours:
Degree of Doctor of Literature (Honoris Causa) award (2020)

The 'Global icon of the year award' 2020

'Rising Star award' by ET Now (2020)

Entrepreneur of the Year in Service Business–Food at the Entrepreneur Awards (2017)

The Advertising Club's Marquee Awards (2017)

Independent advisor to "KAZAKH INVEST" National Company (Govt. of Kazakhstan)

The Indian Restaurant Congress' Food Entrepreneur of the Year Award (2017)
Varun Chaudhary
Managing Director
CG Hospitality Holdings & CG Corp Global
Dr. Varun Chaudhary, Executive Director of CG Corp Global, a multinational conglomerate with a legacy of over 150 years, is the youngest member of the renowned Chaudhary family, whose presence is spread over 24 countries in five continents.
With 79 brands, 167 companies and over 13,000 employees, Chaudhary Group is Nepal's first and only billion Dollar Corporation listed by Forbes. The mammoth empire operates in the areas of fast- moving consumer goods (FMCG), hospitality, finance, banking and Telecom, amongst others.
Dr. Varun joined the business right after graduation and has handled various verticals of the conglomerate in the last 15 years. He started by venturing into new avenues for CG that he believed held large business potential. He successfully established trade in Ayurveda and set up a cement unit in Nepal, driving strong revenues in both segments.
Having demonstrated his strong business acumen, he moved to leading one of the largest segments of CG Corp Global- its FMCG vertical, CG Foods that produces the iconic noodle brand 'WAI WAI'. The Company has marked a remarkable global growth story driven by rapid expansion under the leadership of Dr. Varun, as today he has established WAI WAI's presence in close to 50 countries. With a vision to make WAI WAI a leader in the global noodle segment, he has fortified strategic manufacturing footprints in India, Serbia, Kazakhstan, Bangladesh and Egypt.
He believes in leading by example while focusing on empowering and building his team. An ardent believer of 'nothing is impossible', his positive energy, charisma and determination has made him a youth icon across many countries. A philanthropist at heart, he has always conducted business with a higher purpose of giving back to the society. He is passionate about the cause of providing support to the specially abled. He spearheads CG Foundation's artificial limb fitment camps initiative across India & Nepal.
Decorations and Honours:
Degree of Doctor of Literature (Honoris Causa) award (2020)

The 'Global icon of the year award' 2020

'Rising Star award' by ET Now (2020)

Entrepreneur of the Year in Service Business–Food at the Entrepreneur Awards (2017)

The Advertising Club's Marquee Awards (2017)

Independent advisor to "KAZAKH INVEST" National Company (Govt. of Kazakhstan)

The Indian Restaurant Congress' Food Entrepreneur of the Year Award (2017)
Civic, Political and Philantropic Activities:
Executive Committee Member of the Doon School Old Boys Society (2016–Current)

Founding Member and Global Youth President of the International Vaish Federation (2014– Current)

Member of Young President Organization (YPO)

Chief Patron of Royal Fables (2014–Current)

Trustee of the Chaudhary Foundation (1995–Current)

Trustee of the CG Foundation India

Board member of the Bhagwan Mahaveer ViklangSahayata Samiti (Jaipur Foot)

Honorary Consul in The Republic of Kazakhstan in Nepal

Special advisor to Rajasthan Governor, Raj Bhawan

Advisor to Wockhratd foundation

Member of BRICS CCI Advisory Steering Committee