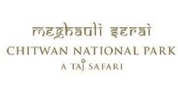 Meghauli Serai
Chitwan National Park is settled far from the rising boundaries of Nepalese settlements and famously crowned as a UNESCO World Heritage Site back in 1984. Gaining ground from the foothills of the Himalayas lays the 952.63-kilometre expanse over the Terai lowland whispering folk tales of tall grasslands and moist deciduous forests.
A mere 20-minute flight from the Kathmandu International Airport, Chitwan is an Asian jewel of wildlife viewing. Out of the 3000 endangered Greater One-Horned Rhinoceroses remaining in the wild, 605 of them can be spotted at the national park alone. Chitwan is also home to the distinct Gharial (thin-snouted Asian crocodile) which is endemic to the Indian subcontinent. Exploring the jungle deeper reveals over 543 species of birds, elephants and Hog deer hidden among the Elephant grass- one of the world's tallest grasses standing at 4 metres!

FAIRMONT MARA SAFARI CLUB, KENYA
The Fairmont Mara Safari Club, a luxury Masai Mara resort hotel in Kenya, re-opened in 2009 following an extensive renovation program. Surrounded on three sides by the breathtaking Mara River, and on the edge of the world's Seventh "New" Wonder of the World – the Masai Mara - Fairmont Mara Safari Club is the epitome of tented luxury. A Top 20 Luxury Resort by Travel & Leisure Magazine The Fairmont is a host to a number of fine dining, safari and outdoor activities. The main Masai Mara lodge at the center of the camp hosts an indoor restaurant, bar and library with Internet access to keep the relatives up to date with safari adventures. A spacious outside deck overhangs the river and leads to a swimming pool, complete with a bar and private massage tents.
Game drives, guided by our experienced 'driver-naturalists', are by four-wheel-drive Land Cruiser. At the hotel in Masai Mara, the pool, al fresco buffet lunches and nightly activities of Masai dancing, slide shows and talks on the Mara's ecosystem and Masai culture, all add up to create a truly unique experience.